I'm sure we've all been there. Our bathrooms tend to look like some kind of plastic bottle collection. There's shampoo, conditioner, body wash, shower gel, body scrub, shaving gel, face wash and whatever other potion we've been duped into thinking we need. We guiltily throw the plastic bottles in the recycling bin hoping for the best and ignoring the statistic that less than 10% of it will actually be recycled. Since most of us know that plastic pollution is such a gigantic problem, many of us are starting to move towards a zero waste lifestyle. A great place to begin is to explore the growing number of eco friendly shampoo options in the form of vegan shampoo bars.
"There is no such thing as away. When we throw anything away, it must go somewhere. "

Annie Leonard
WHAT IS A SHAMPOO BAR?
Essentially a shampoo bar is the same as your regular shampoo except it's had all the water removed. Think of it as 'concentrated' zero waste shampoo.
The best plastic free shampoo bars are typically plant based (so vegan and cruelty free), palm oil free and most are made locally here in the UK, which really does tick a lot of ethical boxes.
It's really easy to choose zero waste living with plenty of easy zero waste ideas these days. Choosing an eco friendly shampoo bar over a shampoo bottle is good for you and good for the planet.
SHAMPOO BAR BENEFITS
There are a ton of benefits to using a shampoo bar which you can definitely raise your chin about with pride.
Let's look at these first, before I take you through some of the best shampoo bars the UK has on offer right now.
Plastic free
Save water
Cheaper price
Transportable
Great zero waste gift
PLASTIC FREE SHAMPOO
For a start, using your eco best shampoo bars mean you're doing the ocean a favour.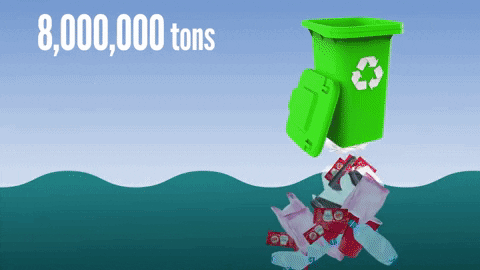 Ditching plastic is not just about getting rid of the actual plastic container, which let's face it will most likely end up in a landfill or in our waterways and eventually our oceans. It's also about getting rid of all the resource used when not bottling up your shampoo.
According to the UK government, the UK uses a shocking 5 million tons of plastic per year, half of which is packaging.
Despite an 'ambition of zero avoidable waste by 2050, environmental campaigners are starting to get extremely pissed about the way the UK government keeps trying to dump it on other countries rather than dealing with it properly.
In fact, a shocking discovery in May this year found that 210 thousand tons of our plastic waste was being sent to Turkey for 'recycling' only for it to sit on roadsides, in fields or dumped in waterways. Much of it was being burned, which created toxic fumes that caused nosebleeds and respiratory problems in local communities.
RT: We've delivered 625kg of plastic to Downing Street – the same amount the UK dumps overseas every 30 seconds – to deliver a message. Stop dumping UK plastic waste overseas and fuelling health and wildlife emergencies. @BorisJohnson take responsibility. 1/2 pic.twitter.com/NxZlAlTw2c

— Greenpeace UK (@GreenpeaceUK) July 13, 2021
https://platform.twitter.com/widgets.js
From obtaining the crude oil needed to make plastic, to the manufacturing process to the transportation, when we needless wrap products in plastic, we're adding a whole new environmental cost to that product. In terms of shampoo bars vs liquid shampoo, the size and weight difference alone makes them instantly more.

"Waste not want not "
So you can kind of see why choosing an eco friendly shampoo bar and zero waste beauty products in general is the least we can do.
Here's an excellent tutorial explaining the perils of plastic and why it's so essential for us humans to make better choices for our bathroom habits and try to go zero waste wherever possible.
Here goes the story of plastic:
SHAMPOO BARS SAVE WATER
Because liquid shampoo is mainly made up of water. If you look on any shampoo bottle you'll see one of the main ingredients is aqua – yep – that's basically water. When you take it out… guess what?! That's your shampoo bar!
SHAMPOO BAR PRICE
As you'll see below, you can pick up a shampoo bar from around £5.50 but they can go up to as much as £14. This depends on the quality of the ingredients, the size and the brand – much like traditional shampoo really.
So apart from all our shampoo bar UK made, you'll also find that much of the time, a natural shampoo bar will last much longer than their liquid shampoo counterparts.
Like with most things you'll learn the exact right amount for your hair and learn how to store shampoo bars so they don't disintegrate.
The best shampoo bars UK available will always last between 40-70 washes, depending on the size of the shampoo bar, as well as length and thickness of your hair.
Pricewise, solid shampoo bars easily compete with a bottle of shampoo or dry shampoo, which traditionally gives you between 30-35 washes, which means you're not only being cost effective, you're NOT needlessly using a plastic bottle each month if you're sharing your shampoo with your family or washing your hair every day.
SHAMPOO BARS ARE TRANSPORTABLE
On a bigger scale you'll find there are more shampoo bars UK made than there are bottled shampoo. This eliminates the need for shipping, which reduces environmental impact of bringing a heavier product from a lot further away.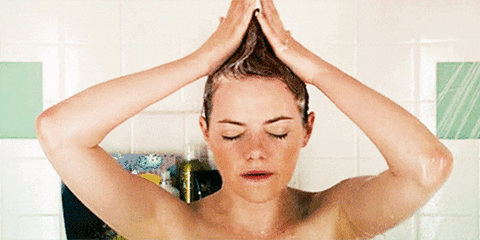 On a personal note, if you're off to the gym or away on a weekend break or holiday you don't need to find space for bottles any more. Your zero waste shampoo bar is essentially your bar of hair soap – small lightweight and easy!
Pop it into a container, or even wrap it in a flannel and slip it into your gym bag. Stick in on your carry-on luggage if you're flying and you won't need to declare it as a liquid like traditional shampoo.
Especially if your environmentally friendly shampoo and conditioner are in one bar, you can easily fit them, along with a small pot of moisturiser and body soap into a much smaller space than several plastic bottle ever would have. #winwin
ZERO WASTE GIFTS
Who doesn't love a good smelly for their birthday or Christmas present?
Giving plastic free shampoo and conditioner or any other zero products for that matter, will not only make the receiver feel good, they make you feel good.
If we all took steps towards a zero waste home, just think how powerful that message to the manufacturers and retailers would be.
Here's another example of easy wins when it comes to gift giving. How about 5 best skincare creams for the eco warriors? All these recommendations contain ethically sourced ingredients and are packaged responsibly.
Not into giving toiletries? How about some awesome ethical chocolate that's droolworthingly good?
HOW TO USE A SHAMPOO BAR
Using shampoo bars a few times to work out the perfect amount to use is normal. Much like with liquid shampoo, the amount you need to use depends on hair type, hair length and which shampoo bar you're using.
Some shampoo bars don't create as much foam and froth as bottled shampoo, so try not to get hung up on achieving the same level of bubbles.
In fact, try to remember that good quality shampoo bars are concentrated, so less is more!
A good tip is to brush your hair through BEFORE you get in the shower, so you reduce tangles and easily distribute the shampoo bar through your hair.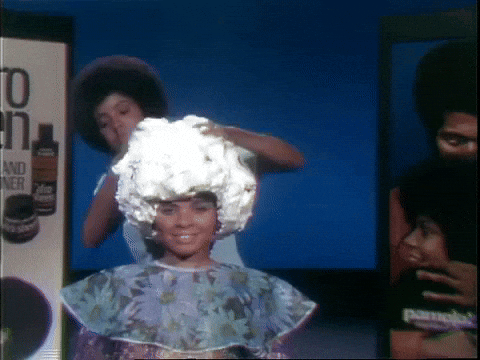 Once your hair is wet through, rub the shampoo bar in a circular motion over your scalp, starting at the crown of your head. As it begins to foam up, work it evenly throughout your wet hair until you have a sufficient lather.
Put down the shampoo bar and continue working the lather until you've cleansed all hair strands from scalp to tips. Remember to rub your scalp well to remove any debris and dead skin cells, as well as generate fresh blood to the scalp which will help your hair to look shiniy and healthy
Rinse out thoroughly. Be sure to use both eco friendly shampoo and conditioner together, unless your shampoo bar is conditioning too.
Another great tip is to use an apple cider vinegar rinse to gently strip the hair of any residue product and bring back real oomph. Simply add a tablespoon of the apple cider vinegar to 8 ounces of filtered water. Pour the mixture over hair thoroughly and dry without rinsing. Any remaining odour will be gone when dry.
HOW TO STORE SHAMPOO BARS

Most shampoo bar companies offer a discreet tin to store your shampoo bar or conditioner bars in, ensuring it stays nice and dry and when it eventually does break down (which it usually will) you'll still have a great storage pot to keep it in.

Some of the storage tins have inner 'shelves' with drainage, so treasured best shampoo bars get dry quickly so they last longer and are ready for the next use.
Other things to look out for when choosing your shampoo bars are whether they're organic and whether they're palm oil free.
ORGANIC SHAMPOO BARS
Of course, organic everything is better for the planet, because they don't use pesticides to grow the ingredients.
The resulting no chemical shampoo is better for your skin and scalp as well as your overall health because you're not absorbing any nasties while you wash.
As an eco-fan I'm sure you already advocate natural ingredients in your choices so organic is just taking it up a notch.
PALM OIL FREE SHAMPOO

As well as being in the zero waste club, another thing about shampoo bars is that they don't contain any palm oil.
This is usually thanks to eco brands who are already aware of the harm that palm oil is doing to the eco system.
This is because rainforests are being chopped down to make way for palm oil plantations, which kills of any bio diversity. Natural habitat for thousands of species is destroyed tipping any natural balance out of sync.
Another point is that shampoo bars are usually freshly made and don't need to last for years in a bottle like liquid shampoo often does. That mean the preservative qualities of palm oil aren't needed and so aren't being poured into our water systems whenever we wash our hair with the typical shampoo bar.
Choosing palm oil free shampoo and conditioner is simply more environmentally friendly.
VEGAN SHAMPOO BARS
Oxford Soap Co 50g. £7.99 Jasmine
(also available in orange, grapefruit, lemon, orange, peppermint and eucalyptus or sandalwood).
This shampoo bar is full of goodies like wheat corn and soy proteins which promote strength and thickness in the hair shaft.
Palm oil and SLS free, means you can rest assured there are no chemical baddies to worry about – especially in terms of drying out your hair. In fact, this shampoo bar is specifically listed as being a two in one – so a shampoo and conditioner bar.
Got dandruff? The natural ingredients of coconut, olive and flax oils rebalances the scalps natural sebum oil so you'll find your hair is less greasy and more in tune with the oils it already produces with less itchy flaky scalp issues.
Finally, jasmine essential oil means you'll enjoy the delightful aroma of light jasmine, as well as a creamy lather to really leave hair feeling soft, nourished and moisturised.
Beauty Kitchen – The Sustainables Shampoo Bar GRAPEFRUIT AND LEMON (brightens dull hair ) £7.50
(Also available in coconut and cocoa (moisturising) or spearmint and orange (deep cleanse and condition
This vegan shampoo bar is made by Beauty Kitchen, who are on a mission to create the most effective, natural and sustainable beauty products in the world! They're also approved as cruelty free under the Leap Bunny Programme, pledging to end all animal testing.
It's all about the shine with this bar, naturally cleansing with 100% natural citrus oil and coconut oil ingredients. Eliminate dry hair and bring dull locks back to life!
A great value, lasting about 70 washes which makes it great for the family shampoo bar to suit – that also means that you'll save 2 shampoo bottles for every one bar you buy!
Like with all of the zero waste shampoo UK made bars listed here, this is a sustainable alternative, with no microplastics and compostable packaging too.
Eco Warrior Orange & Ginger Deeply Nourishing Shampoo Bar £5.35
(Also available in argan and coconut oil blend (for dry hair) and clary sage mint and eucalyptus (for sensitive scalp)
Another 100% plastic free shampoo, which is made in England and contains 100% natural and organic ingredients.
This nourishing luxury shampoo bar is 100% vegan, contains no sodium lauryl sulphate or synthetic chemicals. The whole rate is free from detergents, SLS, alcohol, parabens, sorbates, silicones, sulphates and preservatives.
Although the Eco Warrior solid shampoo bar does contain palm oil, it is RSPO certified sustainable. This, along with other EcoCert oils gives a luxurious and silky feel, lathering well into the hair for a really foamy and creamy wash.
Earth Kind Tea Tree and Eucalyptus for Scalp Health £6.95
Also available in bergamot and sage (dry coloured hair), citrus leaf (for frequent use), or organic oats (all hair types)
Earth kind products are developed by leading UK hair scientists. Made with all natural and sustainable ingredients, this shampoo bar is brilliant for scalp health because of the natural anti-bacterial quality of tea tree oil and freshening but calming effect of eucalyptus oils. Irritated scalps are soothed.
You can also purchase a special storage tin complete with its own removal tray to help keep bars dry and for travel purpose for £5.63
Ethique Heali Kiwi – For touchy scalps and dandruff prone hair
(Also available in ethique mintasy solid shampoo for normal to dry hair, kids oaty delicious, grapefruit and vanilla (for normal hair)
Acknowledging that over 40% of plastic comes from plastic packaging, Ethique are on a mission to rid the world of plastic waste.
They're proving it by creating this 100% sustainable zero waste shampoo bars in fact just a single bar is equivalent to 3 bottles of liquid shampoo, saving 2.7 litres of water too.
Containing only ethically sourced products, made from natural ingredients means this solid bar is kind to the planet and great for your hair and skin. PH Balanced and sap free, the heali kiwi bar is designed for scalp problems. Ingredients like oatmeal, coconut oil, neem oil and karanja oil all soothe and calm an irritated scalp.
You'll not only save plastic bottles from landfill and the ocean with this bar, a 20% donation of Ethiques profits goes to charities fighting for the planet.
SHAMPOO BAR FOR CURLY HAIR
Ethique also offers a solution for curly frizzy hair in the form of their coconut shampoo bar, which is especially for frizzy and dry hair.
Foamy Shampoo Bar – Acai £6.99
(also available in coconut (normal hair) aloe vera (dry hair), apple (anti-dandruff), grapeseed (for blonde hair), hibiscous (for damaged hair), argan oil (for smoothness and shine), raspberry (for coloured hair)
True to its word foamy definitely foams up nicely when washing hair. With plenty of varieties for each hair type, the acai flavour is designed to add volume to fine hair, acai berries give lift and bounce without weight hair down.
Foamy shampoo bars contain no soap, parabens, silicones or microplastics. They're PH balanced to a 5.5 value ensures hair is cleaned to perfection without stripping it (or your scalp) of precious moisture.
Cold pressed syndet (a binding process that occurs between different detergents which absorb oils and repel water and are great for gently cleansing sensitive skin)
Probably one of the best things about the foamy shampoo bar is it's attached string, letting you hang the bar up in the shower so it doesn't go sloppy. This is also perfect for travel and overnight stays.
Nuddy Mint Lime & Coconut £8.95
(other variations include Cocoa and cardamom for extra thickening, Acai berry and Peach for ultra volume)
Vegan nuddy are relative newcomers but have managed to produce a fantastic UK made shampoo bar.
Plastic free, SLS and sulphate free, there are three flavours, but I've chosen the mint lime and coconut because it smells AMAZING.
The citrus ingredient gives a real shine to the hair and the mint and coconut give just the right balance of moisture and scalp health.
You can really feel the quality of this shampoo bar and I would try it again, although it is pricey if you're paying delivery through their website as well.
BEST SHAMPOO BAR
I have to admit I'm still a novice at shampoo bars and am only on my 4th bar, but I am a total convert and I won't go back now – especially after researching and learning all about these yummies!
Wishing you good luck choosing your very own best vegan shampoo!
I'd love to hear your thoughts on all the zero waste shampoo UK has to offer in the comments below or if you've a favourite that I haven't included!
And remember, choosing environmentally friendly shampoo is just the beginning! Fancy learning the best loo roll for the eco warrior to continue your journey to a green bathroom? Check this out:
SHAMPOO BARS RECIPE
Of course, if you are the type of handy eco warrior that likes to make their own natural products, you can easily extend this to your zero waste hair care too.
Here's a great shampoo bar recipe you might feel like trying that suits all hair types and uses dandelion which gives it an incredible happy yellow colour and uses essential oils so smells a bit gorgeous actually.
Eco Friendly Toilet Paper – The Ultimate Guide to Wiping Your Arse Guilt Free